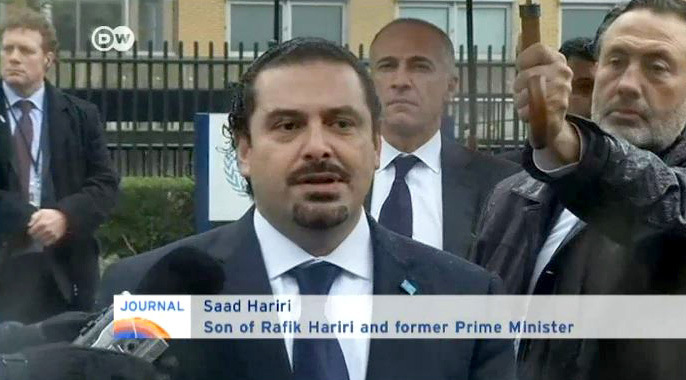 Former Prime Minister Saad Hariri stunned his fellow countrymen with his readiness to build a cabinet together with his foe Hezbollah. (DW-TV)
Summary
An explosive and dangerous mixture of war and several security incidents has accumulated in the Levant. Lebanon is seen by many in the "eye of the storm". We don't think such is on the horizon for the time being.
With its engagement in Syria, Iran has carved out chances to broaden its influence in the region. It cannot dominate, but it has manoeuvred itself in position to force others into making significant concessions. A new balance of power is being established that could safe the region from catastrophe.
Hariri´s Surprising shift – that was inevitable
On January 17, 2014, former Lebanese Prime Minister Saad Hariri stunned his fellow countrymen with a sharp turnaround. In Leidschendam (Netherlands), place of his father´s assassination trial – the Special Tribunal for Lebanon (STL) – the younger Hariri announced readiness to build a cabinet with his foe Hezbollah.
For many, this was unexpected. But when looking at the broader picture, it was a logic step that had to come sooner or later. Regional developments did leave neither his backers nor himself real alternatives.
In May 2013, we wrote: "With a likely strong shift of the power balance in the Syrian war towards the government, politicians and political parties in Lebanon are going to readjust their agendas." (Beirutreporter.TV, May 22, 2013).
Based on our assumption that Syria´s President Assad and his security apparatus with the help of Iran and Russian will eventually bring under control the situation in the country we think, Lebanon is preparing itself.
In Syria, Iran has won leverage to shape the region's power structure in its favour.
Hezbollah´s sudden turnaround
But Iran also has to make concessions. After Minister of Foreign Affairs Mohammad Javad Zarif visited Lebanon last week, Hezbollah suddenly showed openness concerning formation of a cabinet.
Loyalty to the Resistance bloc (Hezbollah) MP Mohammad Raad on Sunday said preventing the country drift into chaos "may require concessions from both parties", as reported by the Lebanese Broadcasting Cooperation (LBC).
Syria´s critics position themselves
Outspoken critics of the Syrian government are positioning themselves now. As often, Druze chieftain Walid Jumblatt was the first to indicate a turnaround. Since the early months of 2013 he has toned down his fierce anti-Assad rhetoric and is seen in favour of cabinet building.
Former Prime Minister Saad Hariri with his mostly Sunnite "Future" party is the heavyweight in the so-called March 14 opposition bloc.
For security reasons, Hariri is residing outside the country since years. Doubts are rising within Lebanon´s Sunnite community on whether Hariri really is the right man in the lead. He was never undisputed. But alternatives are close to zero, and there is no other man currently in sight, who commands as huge a following as Hariri among Sunnites.
Of the anti-Assad camp, also former President and head of the Christian Kataeb Party Amin Gemayel stepped forward just yesterday and stressed the need for cabinet building, though not at all costs.
Christian Lebanese Forces leader Samir Geagea is known for his staunch anti-Assad and anti-Hezbollah stance. He has not yet publicly commented on Hariri´s new approach.
Pulling back
As for the region as a whole, also for Lebanon something is being prepared in order to prevent a bigger catastrophe, signs of which all decisive players are very well aware of, it seems. Many are pulling back, because everybody stands to lose a great deal.
According to our reading this development started in the early months of 2013 and became clearly visible before the Battle for Ousayr (Beirutreporter TV, May 21, 2013), Syria, in May 2013, when Syrian rebels were denied essential military support by the West.
President Bashar al-Assad and his security apparatus cannot be brought down, without risking Syria become a failed state, its effects potentially spreading over the whole region and thus also imperil Israel´s very existence.
Lebanon to remain stable
We stick to our estimation that goes back to May last year (Beirutreporter.TV, May 22, 2013). Lebanon will remain stable and it won´t be dragged into the Syrian war in the foreseeable future. At least not because of violent spillover like car bombings or temporary skirmishes between gunmen.
Such incidents are causing regrettable human loss, but at the end of the day they won´t change the overall situation on the ground.
Country of the cedars holds many surprises
The first weeks of 2014 are sending clear signals that this year may be the year of turnarounds in the region and a new regional balance of power is being prepared. Nonetheless, the road toward that goal is going to be bumpy.
Especially in Lebanon, everything is possible at any time given. The country surprises foreigners and its own people alike on a daily basis. Private and public affairs often develop unexpected dynamics. For the better – or the worse.
In the next part of this series we will look into the options of other regional countries within the scope of broader developments in the Middle East.